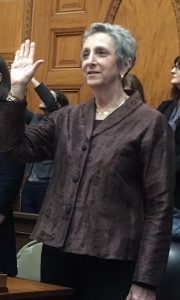 Dear Friend,
On Election Day 2022, the people of the 12th Middlesex District elected me, for the thirteenth time, to serve as their State Representative.
It is a great honor to represent the people of Newton and Brookline on Beacon Hill. With their support and partnership, I will continue to be a progressive voice in the Massachusetts State Legislature. I will continue to do all that I can to make sure that Massachusetts provides its people with world-class public services and that there is a strong safety net for the most vulnerable among us. I will continue to focus on behavioral health care and equal rights for all people, and to address the increasing threats to our environment.
Please contact me at any time with your ideas and concerns. I will do my best to represent you. You can reach me:
In my office; Room 163, State House, 617-722-2199
For State House business: ruth.balser@mahouse.gov
For political issues: ruthbalser@gmail.com
I look forward to a continued partnership.
Sincerely,