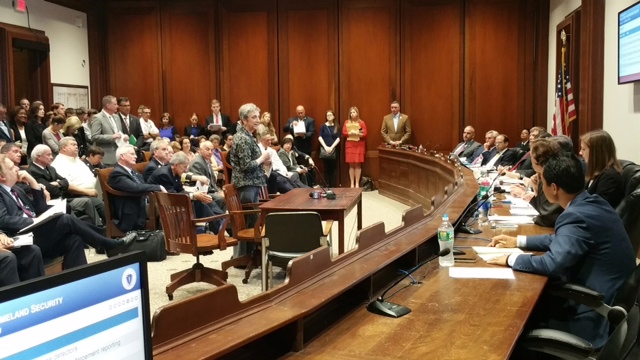 Representative Ruth Balser is working hard to make a difference in the lives of Massachusetts families.  She has filed bills that address a broad range of public policy concerns. Click here to look up specific bills.
Bills Representative Balser has filed for the 2017-2018 legislative session:  
Equal Rights:
Representative Balser has been recognized as a champion for equal rights for all the people of Massachusetts.  In particular, she has led efforts to end gender discrimination.  A bill she filed that prohibited gender discrimination in annuity policies was signed into law in 2008.  This session she has filed legislation that would prohibit gender discrimination in disability policies and also an omnibus bill that would prohibit all types of insurance from discrimination.
H.483 – An Act providing for equitable coverage in disability policies
This bill would prohibit gender discrimination in disability, accident or sickness insurance policies.  It would require that all disability policies be gender-neutral.  Currently women pay more for a policy than a man of the same age with the same job.  
H.482 – An Act prohibiting discrimination in insurance policies
This bill would require that all state regulated insurance policies must be gender-neutral.  Passage of this bill is considered the last step in completing the work of the equal rights amendment in Massachusetts. (Currently automobile, health, homeowners, and annuity insurance are gender-neutral in Massachusetts.)
Environment:
Representative Balser considers protecting the environment a top priority.  For several sessions, she has been the lead House sponsor for the Public Lands Preservation Act.
H.2108 – An Act Protecting the Natural Resources of the Commonwealth  
Many bills come before the legislature seeking to transfer public natural resource lands, protected by Article 97 of the Massachusetts Constitution, for other purposes. This legislation would create a transparent process with EEA review before the legislature votes on whether to allow a park or conservation land protected by Article 97 to be converted to another use.
Behavioral Health:
Representative Balser is nationally recognized for her efforts to expand access to treatment for mental illness and addictions.  Many bills that she has filed, including an expansion of mental health parity and a children's mental health bill, have been signed into law.  This session, she has filed many bills that would improve access to services for those who struggle with these challenges.
H.2010- An Act Supporting Healthy Development Among Preschoolers
Proposed legislation would require the Department of Early Education and Care to promulgate regulations to support social, emotional, and behavioral development and limit expulsion and suspension of children from pre-school programs.
H.486 – An Act to require health care coverage for the emergency psychiatric services
The bill requires commercial insurance companies to pay for behavioral health emergency services provided by Emergency Services Providers (ESP), just as Mass Health does for those it covers.  
H.485 – An Act requiring mental health parity for disability policies
This bill requires that disability policies provide the same benefits for behavioral health disorders as other medical disorders.  
H.484 – An Act relative to the continuity of care of mental health treatment
The bill requires that health plans pay for the continuation of mental health treatment with a provider in the instance that the insurance changes and the provider is no longer on the network.
H.488 – An Act to increase access to children's mental health services in the community
The bill requires commercial health plans to cover community and home-based behavioral health care services ("wraparound care") for children and adolescents with mental health disorders, just as those services are available to children with MassHealth through the Children's Behavioral Health Initiative (CBHI).  
H.487 – An Act relative to the transparency of mental health benefits
The bill requires the disclosure of data about denials of care and other matters by behavioral health management firms and other third party administrators.  
H.1060 – An Act relative to increasing access to psychological services
This bill ensures that services provided by licensed psychologists will be covered by MassHealth.  
H.2430 – An Act relative to facilitating the utilization of psychologists on the health care team
This bill amends the Nurse Practice Act to ensure that nurses may fill orders issued by psychologists.
H.720 – An Act to preserve access to inpatient mental health services for individuals with mental illness
This bill would ensure that individuals receiving psychiatric evaluation or treatment continue to receive treatment if they engage in an act of aggression towards staff.  
H.2156 – An Act relative to Telemedicine
The purpose of this bill is to allow that telehealth services are utilized to increase access to behavioral health services.  
Criminal Justice Reform:
H.2248 – An Act Promoting Humane Conditions of Confinement and Enable Safe Reentry
This bill protects vulnerable groups from unnecessary placement in solitary confinement, including those with serious mental illness, pregnant women, LGBTQ prisoners, youth, deaf and blind prisoners, elderly prisoners, and prisoners who are otherwise like to deteriorate due to a disability.  
H.2249 – An Act Establishing a Segregation Oversight Committee
This bill establishes a segregation oversight committee that will gather information regarding the use of disciplinary segregation and non-disciplinary segregation in Massachusetts correctional institutions, jails, and houses of correction, to determine the impact of such confinement on prisoners, rates of violence and self-harm within the institutions, recidivism, and incarceration costs.  
H.2389 – An Act Transferring Bridgewater State Hospital from the Department of Corrections to the Department of Mental Health
The bill places the responsibility for the oversight of Bridgewater State Hospital within the Department of Mental Health, the mental health authority for the state.
H.721 – An Act relative to ensuring quality mental health services in state correctional facilities
This bill ensures that the Department of Mental Health has oversight of the mental health services in state correctional facilities.
H.719-  An Act to improve public safety by facilitating access to addiction services
This bill requires county and state correctional facilities to provide substance abuse services to any inmate with a substance abuse problem.  
Health Care:

H.592 – An Act Restoring Affordable Health Connector Coverage
This bill will ensure health insurance purchased through the Health Connector under the federal Affordable Care Act continues to be as affordable as the Commonwealth Care program was under the Massachusetts health reform law.  This protects low income residents of Massachusetts.
Public Health & Safety:
Representative Balser has been a champion for fire safety.  Her legislation to extend automatic sprinkler requirements was signed into law in 2008.  She has also led other public health efforts.
H.2482– An Act Relative to Fire Protection
This bill clarifies the standard for requiring the installation of automatic sprinkler systems in rehabilitated buildings.
H.2481 – An Act relative to enhanced fire protection in new one and two family dwellings
This gives each municipality the option, by local option adoption, to require any new construction of single and 2 family homes to install a system of automatic sprinkler protection.
H.2431 – An Act protecting the health and safety of people in restaurants
The bill would eliminate the 25 person threshold for restaurants to be required to have training for saving people from choking, so that a restaurant of any size would have that requirement. The bill also removes outmoded methods and directs the DPH to adopt regulations identifying the approved methods.  
Community Access Television:
H.2682 – An Act Supporting Community Access Television  
This bill requires cable TV providers to provide PEG channels with access to HD or other technology.  It also requires the cable TV providers to include community programming in the program guide.
Judicial Reform:
H 718 – An Act to establish the uniform enforcement of foreign judgments.
A state that enacts the Uniform Act permits enforcement of a judgment of another state in Massachusetts.  Without this Act, a person who obtains a valid judgment of a court in another state likely will have to re-litigate the enforcement of that judgment in Massachusetts.