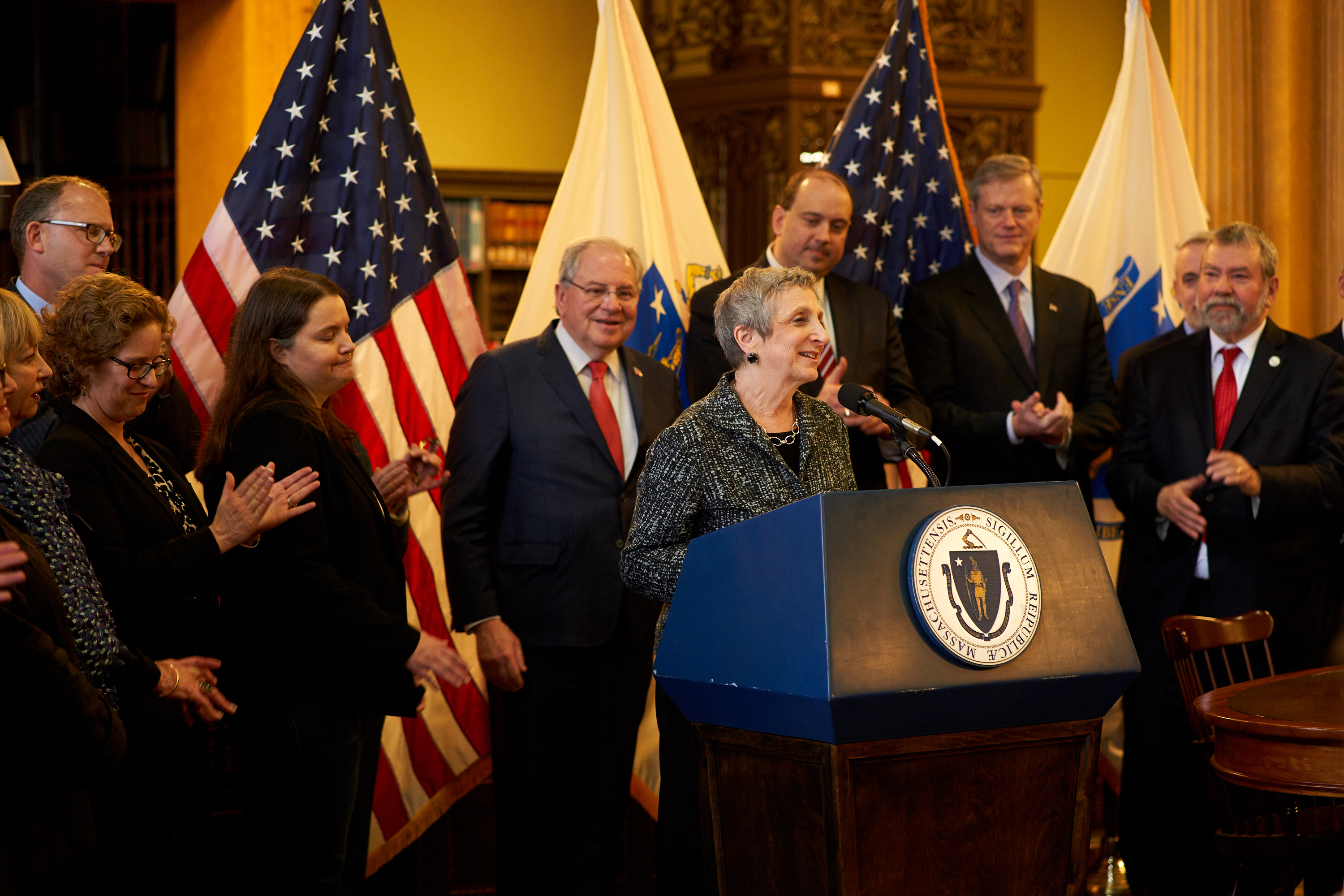 Bills Filed by Representative Balser for the 2019-2020 session
To read the text of bills, go to:  https://malegislature.gov
Energy and Environment: 
∙     HD1033 – An Act Protecting the Natural Resources of the Commonwealth   (the Public Lands Preservation Act – PLPA)
The state constitution allows the legislature to consider the conversion of public land, so-called "Article 97 land."   This bill clarifies and regularizes the process used to evaluate such proposals. The bill's goal is: "no net loss" of protected land.
∙     HD1248 – An Act to secure a clean energy future
This legislation is a comprehensive climate solutions bill.  It updates the state's Global Warming Solutions Act goals to achieve net zero emissions by 2050. The bill also raises the annual Renewable Portfolio Standard (RPS) to 3%, eliminates the Solar Net Metering Cap, defines "environmental justice" and prohibits the denial of energy programs to consumers on the basis of class.  It increases the required development of offshore wind to 6000MW by 2035.  It requires 50% of state-owned or leased vehicles to be zero emissions by 2025.  It doubles the state's target for battery storage.  It prevents a pipeline tax and it directs the state pension fund to divest from thermal coal and permits any independent retirement board to divest from fossil fuels.  
∙     HD2775 – An Act relative to energy efficiency
This bill eliminates energy efficiency incentives for fossil-fuel-fired space heating equipment beginning in 2022. Incentives for low-income residential customers would be exempt from this ban. 
∙     HD2783 – An Act to Advance Beneficial Electrification of Space Heating
This bill creates a commission to study the economic, energy, and environmental benefits of market transformation to accelerate beneficial electrification of space heating in the decade from 2020 to 2030.
∙     HD2736 – An Act relative to Department of Public Utilities Commissioners
This bill requires that at least one of the 3 DPU commissioners have a background in renewable energy and that DPU reports annually on its progress towards achieving GWSA compliance, including towards 100% renewable energy.
∙     HD 1073 – An Act Relative to Marbled Crayfish and Marmokrebs
This bill adds Marbled Crayfish and Marmokrebs to the aquatic invasive species list, and ensures that they are taken out of the pet trade in Massachusetts in order to protect our water systems.
Social Justice:
∙     HD1520- An Act to protect the civil rights and safety of all Massachusetts residents(Safe Communities Act) This bill ensures that Massachusetts will be a safe community for immigrants by protecting due process rights for all residents of the Commonwealth. 
∙     HD1060 – An Act renaming the Yawkey commuter rail station on the Worcester-Framingham line
This bill establishes a special commission to rename the Yawkey Commuter rail station to a name that better reflects the Commonwealth's values of equal rights and social justice.
∙     HD1126 – An Act to collect data on LGBTQI prisoners held in restrictive housing
This bill adds reporting requirements for the DOC regarding the use of solitary confinement for LGBTQI prisoners and adds 2 appointments by the Attorney General to the committee overseeing the use of solitary confinement on LGBTQI prisoners. 
Behavioral Health:
∙     HD1417– An Act relative to mental health parity implementation
This bill ensures that all federal parity laws are implemented in Massachusetts.
∙     HD1037 – An Act requiring mental health parity for disability policies
This bill would require that disability policies provide the same benefits for behavioral health disorders as other medical disorders. 
∙     HD1031 – An Act Supporting Healthy Development Among Preschoolers
This bill requires the development of standards for prohibiting or limiting the use of suspension and expulsion in preschools.
∙     HD1333 – An Act to Promote Social-Emotional Learning
This bill requires social-emotional learning to be included in teacher training.
∙     HD1040 – An Act to require health care coverage for the emergency psychiatric services
The bill requires commercial insurance companies to pay for behavioral health emergency services provided by Emergency Services Providers (ESPs), just as Mass Health does. 
∙     HD1036 – An Act relative to the continuity of care of mental health treatment.
The bill requires that a health plan pay for the continuation of mental health treatment with a provider in the instance the health plan changes and the provider is no longer on the provider network, so long as the provider agrees to the terms of the plan.
∙     HD1049- An Act relative to increasing access to psychological services
This bill ensures that MassHealth covers services provided by licensed psychologists.
∙     HD1053- An Act relative to facilitating the utilization of psychologists on the health care team
This legislation authorizes nurses to fill orders issued by psychologists.
∙     HD2473 – An Act to preserve access to inpatient mental health services for individuals with mental illness
This legislation would ensure that individuals receiving psychiatric evaluation or treatment, and in transit to or confined to inpatient hospital facilities, continue to receive treatment if they engage in an act of aggression towards staff. While these individuals could still be charged with assault or assault and battery, they would not be subject to additional penalties. 
∙     HD1067 – An Act requiring the Division of Medical Assistance to provide adequate rates
The bill requires that the Division of Medical Assistance and its third party contractors, such as the Managed Care Organizations and the Mass. Behavioral Health Partnership, adjust the rates for all network hospitals not less than the Medical CPI. 
∙     HD1069 – An Act to require equitable payment from the Commonwealth
This bill requires that the Executive Office of Health and Human Services ensure that hospitals who treat patients who also are clients of State Agencies be reimbursed their full negotiated rate when these clients are unable to be discharged because there is nowhere for them to go.
Behavioral Health & Criminal Justice Reform:  
∙     HD1125 – An Act ensuring access to addiction services
This bill ensures that those individuals who are deemed to be at risk to self or others because of a substance use disorder, and are committed under Section 35, be treated in a healthcare facility and not a correctional facility.  (This would prohibit sending men to MASAC as long as the DOC oversees that facility.) 
∙     HD2727 – An Act relative to treatment, not imprisonment
This bill ensures that those on probation receive treatment rather than incarceration in the event of a relapse.
∙     HD1044- An Act to improve public safety by facilitating access to addiction services
This bill requires county and state correctional facilities to provide substance abuse services to any inmate with a substance abuse problem who requests it.
∙     HD1050 – An Act Transferring Bridgewater State Hospital from the Department of Corrections to the Department of Mental Health
The bill places the responsibility for the oversight of Bridgewater State Hospital with the Department of Mental Health, rather than the Department of Corrections.
∙     HD1046 – An Act relative to ensuring quality mental health services in state correctional facilities
This bill ensures that the Department of Mental Health has oversight of the mental health services in state correctional facilities.
Public Health & Public Safety:
∙     HD1077- An Act Incorporating the Public Health Fukushima Lessons for Nuclear Emergency Preparation
This bill ensures that MEMA and DPH provide relevant information and take necessary preparatory steps in the event of an emergency at a nuclear power plant, taking into account the lessons learned from the Fukushima disaster.  The bill expands the planning zone for an emergency evacuation from 10 to 20 miles around nuclear power stations, places mobile radiological monitoring units in that zone, distributes thyroid-protecting potassium iodide pills, and distributes evacuation and safety brochures. 
∙     HD1059– An Act Relative to Fire Protection
This bill clarifies the standard for requiring the installation of automatic sprinkler systems in rehabilitated buildings.
∙     HD1058 – An Act relative to enhanced fire protection in new one and two family dwellings
This legislation allows any city or town, by local option adoption, to require the installation of automatic sprinkler systems in new construction of 1- and 2-family homes.
∙     HD1055 – An Act protecting the health and safety of people in restaurants
This bill would remove the 25 person threshold for requiring employee training to respond to choking in restaurants and instead require that restaurants of any size have the safety requirement. Additionally, the bill removes outmoded methods for responding to choking and requires the DPH to adopt regulations identifying the approved methods. Health departments are required to inform restaurants of their responsibilities under the law.
∙     HD1075- An Act Creating A Commission To Study The Need To Reduce Salt and Sugar Content in Meals Served In Restaurants, Schools, and Public Spaces
This bill establishes a commission to study the public health impacts of added salts and sugars in food.
∙     HD2478-   An Act making technical changes to the Betsy Lehman Center for patient safety and medical error reduction enabling statute
This bill includes technical amendments to clarify that there are no barriers to state agencies agreeing to share their patient safety data with the Betsy Lehman Center, and vice versa.
Health Care:
∙     HD1070 – An Act Restoring Affordable Health Connector Coverage
This bill ensures that the Commonwealth Care Trust Fund continues to have sufficient revenue to keep ConnectorCare premiums and copays affordable, makes the inflows and outflows of the Commonwealth Care Trust Fund more transparent, re-institutes premium and copay protections for the lowest-income ConnectorCare members, and ensures that there is a choice of ConnectorCare plans in each area of the state. 
Consumer Protection
∙     HD1063- An Act Relative to Kosher Food Signage
This bill ensures that stores that have lost their Kosher certification put up appropriate signage indicating the current status. 
By Request of Constituent
∙     HD1064 – An Act to recognize common law marriage in the Commonwealth
This bill legalizes common law marriage in Massachusetts.