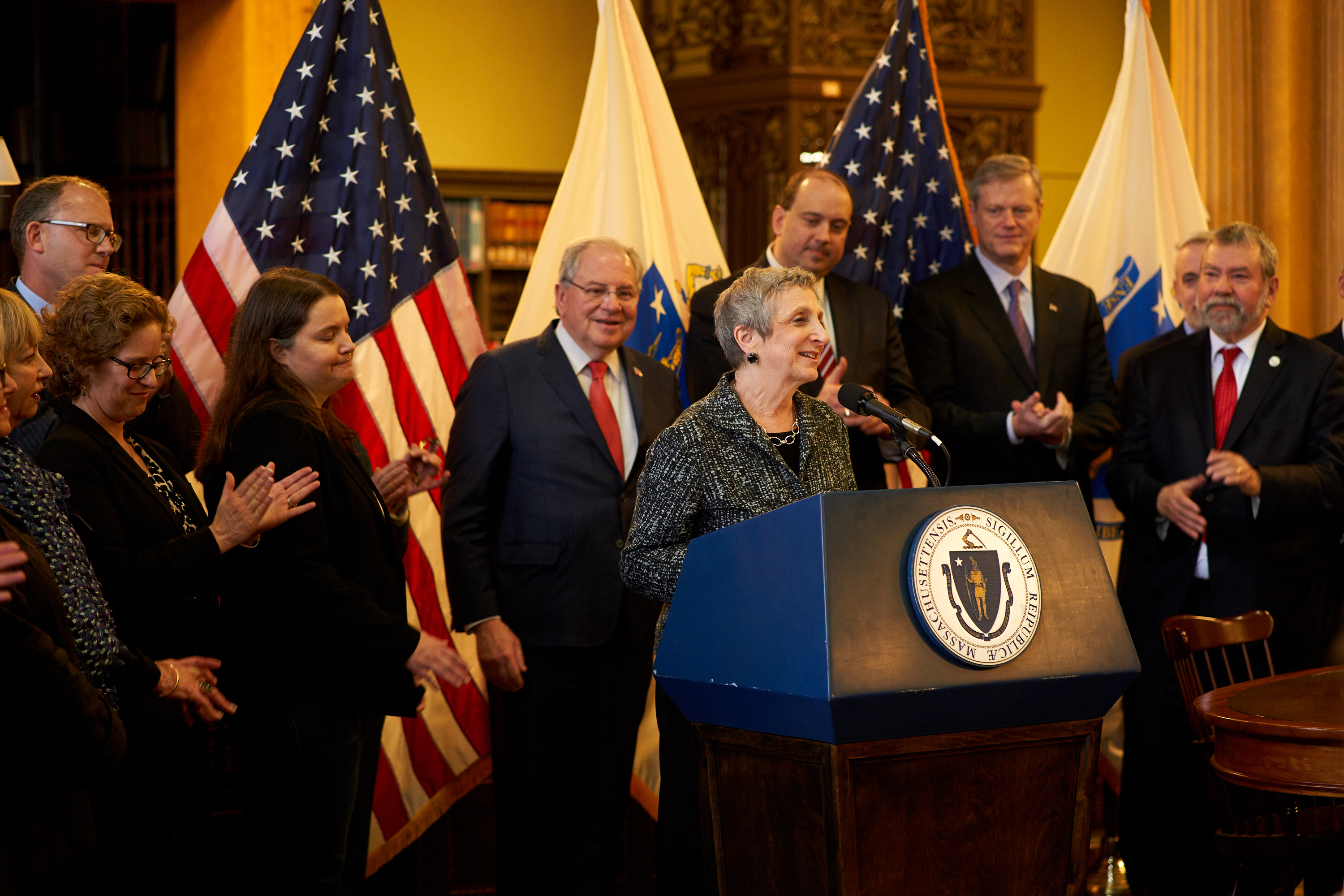 Bills filed for the 2021-2022 session by Representative Ruth B. Balser
To see the text of all legislation:   https://malegislature.gov

Environment
HD271 An Act Preserving Open Space in the Commonwealth – PLPA 
This legislation, often referred to as the Public Lands Preservation Act (PLPA), will preserve public lands protected under Article 97 of the Massachusetts constitution for future generations, by requiring that in the event of a proposed transfer of protected land, there will be no net loss of lands; that an alternatives analysis be completed for any proposed disposition; and that any such proposal be subject to a requirement of prior notification to the public and the Executive Office of Energy and Environmental Affairs.  This bill was engrossed by the House last session. 
Immigrant Rights
HD1165 An Act to protect the civil rights and safety of all Massachusetts residents – Safe Communities Act
This bill, referred to as the Safe Communities Act, ensures that Massachusetts will be a safe and welcoming community for immigrants and refugees by prohibiting local and state involvement in federal immigration enforcement, unless required by law.  In the face of the global pandemic, many in the immigrant community fear seeking medical care.  By making clear that there is no local or state involvement with federal immigration enforcement, immigrants will be able to trust public health and public safety authorities in Massachusetts.  The US Supreme Court, in declining to take on the case, affirmed the lower court's ruling that a state is well within its rights to restrict its law enforcement authorities from taking on federal immigration responsibilities.  
Addiction 
HD672 An Act Ensuring Access to Addiction Services  – section 35 
This bill ensures that those men, who are civilly committed for treatment under Section 35 because they have a substance abuse disorder that is so severe that there is a significant risk to self or others, will be treated in a healthcare facility and not a correctional facility.  Several years ago, Massachusetts prohibited sending women to Section 35 programs at correctional facilities.  It is time that the same message – that addiction is an illness, not a crime – apply to men, as well. 
HD1608 An Act relative to treatment, not imprisonment. 
This bill ensures that a relapse is recognized as a part of the illness of addiction and is not deemed to be a violation of probation.  Rather than be incarcerated as a result of a relapse, the individual, who is on probation, should be required to be in treatment.  
HD1419 An Act regarding consistent care for addiction rooted in evidence
This bill fills a gap in existing state law by requiring all state and county correctional facilities to provide medication assisted treatment for Opioid Use Disorder upon the recommendation of a qualified addiction specialist. It ensures that the provision of medication is timely and continuous, and is available from pretrial detention through post-conviction. 
HD298 An Act to improve public safety by facilitating access to addiction services
This bill would require county and state correctional facilities to provide substance abuse services to any inmate with a substance abuse problem who requests it.
Elder Affairs
HD1575 An Act strengthening the Attorney General's tools to protect nursing home residents and other patients from abuse and neglect
Sponsored with Attorney General Maura Healey, this bill strengthens the civil enforcement tools used by the Attorney General's Office to address abuse and neglect of elderly and disabled patients, whether they are cared for at home or in nursing homes. The bill increases the civil penalties that the office can seek for the mistreatment, abuse or neglect of nursing home residents or other covered patients. It also increases the time in which the Attorney General can bring a civil suit from two years to four years. 
HD1357 An Act to improve nursing home job standards and care quality
This bill will improve the quality of care provided to nursing home residents by increasing the minimum number of hours of care per resident per day from 3.5 to 4.0, of which at least 3.5 hours must be provided by a certified nursing assistant. The bill would also require nursing facilities to establish planning committees consisting of both workers and management, to develop and submit plans to DPH that ensure that direct care staffing is sufficient to provide quality care and a safe working environment.  This bill has the support of SEIU.  
HD2410 An Act ensuring access to PPE for eldercare providers
This bill will increase access to personal protective equipment (PPE) for eldercare providers by establishing a virtual marketplace where nursing homes, assisted living residences, and home care agencies, among others, can aggregate and negotiate competitive prices for PPE. It will also require EOHHS to develop a nursing facility rate add-on to account for the cost of obtaining PPE for use with MassHealth beneficiaries. 
HD2981 An Act to ensure the quality of care in nursing homes
This bill will improve the quality of care provided to nursing home residents by increasing the minimum number of hours of care per resident per day from 3.5 to 4.1, requiring nursing facilities to have outbreak response plans, creating a pathway towards single occupancy rooms, and increasing staff training by re-establishing career ladder programs in nursing facilities. This bill has the support of AARP. 
Healthcare
HD2300 An Act relative to insurance coverage for mammograms and breast cancer screening
The bill would increase access to women for breast cancer screening and diagnosis by requiring insurance coverage for digital breast tomosynthesis (DBT) and extend insurance coverage for additional screening of patients with dense breast tissue or high risk for cancer.  DBT is a more modern method of screening for breast cancer that is often used in mammograms. DBT provides a clearer and more accurate view compared to traditional mammography, with higher cancer detection rates and fewer patient recalls for additional testing.  18 states have passed such a mandate, including Connecticut, New Hampshire, and Vermont. 
HD2191 An Act ensuring access to full spectrum pregnancy care, co-petitioner with Rep. Lindsay Sabadosa
This bill would require health insurance plans to cover all pregnancy care, including abortion care, prenatal care, childbirth, and postpartum care, without any kind of cost-sharing.
HD1501 An Act making technical changes to the Betsy Lehman Center for patient safety and medical error reduction enabling statute
This bill includes technical amendments to clarify that there are no barriers to state agencies agreeing to share their patient safety data with the Betsy Lehman Center, and vice versa.
Mental Health
HD671 An Act relative to mental health parity implementation
This bill ensures that all federal parity laws are implemented in Massachusetts.  
HD477 An Act to update mental health parity
This bill eliminates the distinction in the Massachusetts mental health parity law between so-called "biologically based disorders" and "non-biologically based disorders" and ensures that all mental health conditions are treated in the same way as all other medical conditions in terms of health insurance coverage.  
HD292 An Act requiring mental health parity for disability policies
This bill would require that disability insurance policies provide the same benefits for behavioral health disorders as other medical disorders, just as health care policies do.
HD1702 An Act relative to transparency of consumer health insurance rights
This bill requires carriers to display certain information on their enrollment cards, including "This health plan is fully-insured, subject to all the laws of the Commonwealth of Massachusetts." This provides consumers and providers clarity about whether the many vital protections afforded by Massachusetts state laws apply to their coverage and access to health care, and provides clarity about pathways to appeal a denial or seek regulatory assistance. 
HD670 An Act to require health care coverage for emergency psychiatric services
This bill requires commercial insurance companies to pay for behavioral health emergency services provided by Emergency Services Providers (ESPs), just as Mass Health does.
HD656 An Act providing continuity of care for mental health treatment
This bill requires that a health plan pay for the continuation of mental health treatment with a provider in the instance where the consumer changes health plans and their provider is not on the new plan, or if for some other reason the provider is no longer on the provider network, so long as the provider agrees to the terms of the plan.  This bill, that has been filed many times, is particularly relevant during the COVID era, as so many people have lost their jobs and their insurance, and when they return to work they may have different insurance.  
HD432 An Act relative to facilitating the utilization of psychologists on the health care team
This legislation amends the Nurse Practice Act to authorize nurses to fill orders issued by psychologists.  This does not change the scope of practice for either the nurse or the psychologist. 
HD429 An Act relative to increasing access to psychological services
The bill ensures that services that are provided by licensed psychologists will be covered by MassHealth.
HD430 An Act transferring Bridgewater State Hospital from the Department of Corrections to the Department of Mental Health
This bill places the responsibility for the oversight of Bridgewater State Hospital with the Department of Mental Health, rather than the Department of Corrections.
HD299 An Act relative to ensuring quality mental health services in state correctional facilities
This bill ensures that the Department of Mental Health has oversight of mental health services in the state prison system.
HD4010 An Act to improve mental health services in places of incarceration, co-petitioner with Rep. Marjorie Decker 
This bill establishes that the Department of Mental Health shall have jurisdiction over the administration of mental health services in Massachusetts' prisons and jails, and shall collect certain data to improve the provision of mental health services in prisons. 
HD475 An Act to ensure MassHealth rate parity for behavioral health inpatient providers
This bill requires that the Division of Medical Assistance and its third-party contractors, such as the Managed Care Organizations and the Massachusetts. Behavioral Health Partnership, adjust the rates for all network hospitals not less than the Medical CPI. 
HD446 An Act to require equitable payment from the Commonwealth
This bill requires that the Executive Office of Health and Human Services ensure that hospitals who treat patients who also are clients of state agencies be reimbursed their full negotiated rate when these clients are unable to be discharged because there is nowhere for them to go.
Education
HD770 An Act to support healthy development among preschoolers
This bill requires the development of standards for prohibiting or limiting the use of suspension and expulsion in preschools.
HD307 An Act to promote social-emotional learning
This bill requires social-emotional learning to be included in teacher training.
Public Health
HD300 An Act protecting the health and safety of people in restaurants
This bill would remove the 25-person threshold for requiring that restaurant employees receive training in responding to a choking incident, and instead require that restaurants of any size have the safety requirement. Additionally, the bill removes outmoded methods and requires the DPH to adopt regulations identifying the approved methods. Further, health departments are required to inform restaurants of their responsibilities under the law.
HD1612 An Act creating a commission to study the need to reduce salt and sugar content in meals served in restaurants, schools, and public spaces
This bill establishes a commission to study the public health impacts of added salts and sugars in food.
HD1620 An Act incorporating the public health lessons learned from the Fukushima nuclear disaster
This bill ensures that MEMA and DPH provide relevant information and take necessary preparatory steps in the event of an emergency at a nuclear power plant, taking into account the lessons learned from the Fukushima disaster.  The bill expands the planning zone for an emergency evacuation from 10 to 20 miles around nuclear power stations, places mobile radiological monitoring units in that zone, distributes thyroid-protecting potassium iodide pills, and distributes evacuation and safety brochures. 
Public Safety
HD1009 An Act relative to enhanced fire protection in new one- and two-family dwellings
This legislation allows any city or town, by local option adoption, to require the installation of automatic sprinkler systems in new construction of 1- and 2-family homes.
HD305 An Act relative to fire protection
This bill clarifies the standard for requiring the installation of automatic sprinkler systems in rehabilitated buildings.
Judiciary
HD3772 An Act to ensure equitable representation in Probate Court proceedings involving children
This bill will ensure equitable representation between the parties in Probate Court child custody cases in which a non-custodial, indigent biological parent receives court-appointed counsel, by establishing that the custodial parent or guardian is also entitled to court-appointed counsel, regardless of whether they are indigent.