Advocate for Mental Health
Representative Balser leads efforts to expand access to treatment for mental illness and addictions, and support services for the disabled.  She is responsible for passage of many bills that protect consumers of behavioral health services including landmark mental health parity and children's mental health legislation.  She is additionally credited with protecting behavioral health in Massachusetts health reform efforts of both 2006 and 2012.
Advocate for Equal Rights
A top priority for Representative Balser has been ending gender discrimination in insurance. She is responsible for the passage of a bill that prohibited gender discrimination in annuity policies. This term she filed legislation that would prohibit gender discrimination in disability policies.
Representative Balser was proud to have worked with her colleagues to protect equal marriage rights in Massachusetts. During the first constitutional convention on this issue Representative Balser received an "A" from the Boston Phoenix for her speech. Here's what the Boston Phoenix had to say:
"Separate but equal is not a part of civil rights, it is a violation of civil rights," Balser said near the beginning of one of the most thoughtfully constructed and argumentative speeches of the day. She pierced the argument that marriage has been hetero for millenia with the magnificent observation that "we have a historic opportunity to expand our definition of love and marriage." She read from an American Psychological Association report to refute arguments that same-sex marriage is bad for children. She spoke of other movements for equality that had faced opposition. In scope, language, and passionate delivery, Balser's speech may have been the best of the day.
Representative Balser continues to fight for equal rights for the LGBT community. She co-sponsored legislation that grants equal rights to transgender individuals, signed into law by Governor Patrick. She is the co-sponsor of legislation that would extend the protections to trangendered individuals to public accommodations.
Advocate for the Environment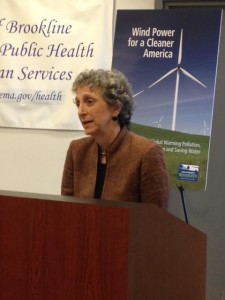 Representative Balser has a long history of fighting for the environment. She is the author of two reports on the loss of open space in Massachusetts and she is the lead sponsor of the Public Lands Preservation Act.
Rep. Balser has been recognized for her efforts with awards from the Newton Conservators and the Environmental League of Massachusetts and has earned a 100% rating from the Massachusetts Audubon Society.
Locally she has spearheaded efforts to protect Hammond Pond, Hemlock Gorge, Crystal Lake and the Chestnut Hill Waterworks.
Advocate for Public Safety and Public Health
Rep. Balser has a long history of advocating for legislation that will protect the public safety.  As an Alderman, she chaired the Public Safety & Transportation Committee.  As a State Representative, she focused on fire safety in response to the tragedy in 2000 when a building on Boylston Street in Newton burned and 5 people died.  She filed a bill that closed loopholes in the state's requirements for automatic sprinkler systems, and that bill was signed into law in 2008. This session, she has filed a bill that would create a local option to require the installation of automatic sprinklers in new construction of single family homes.
Additionally, Rep Balser has filed legislation to expand the training of restaurant personnel to respond to choking.